A New Climate Story
Nov 13 – Dec 18, 2023
---
"If you want to make small changes, you can change the way you DO things.
If you want to make MAJOR changes, you have to change the way you SEE things." Gabe Brown-attributed to Don Campbell
Course Format
This online course will consist of 6 classes and be held live on Zoom. Classes will begin November 13, 2023 and end on December 18, 2023. Classes will be held on Mondays from 1:00 – 2:00 pm ET and 7:00 – 8:00 pm ET to accommodate students' schedules. Students are invited to attend whichever of these two sessions are most convenient for them.
Course fee: $120. Everyone is welcome, so if you're on a tight budget a sliding scale is available at checkout.
Course Description
Imagine a world where innovative thinking and peer-reviewed science offers hope and empowerment, with a path to reverse climate change in months, years or decades, not centuries. Imagine principles you could apply to improve your own circumstances, even if the rest of the world fails to act. As triple-digit temperatures warp summers, there is no better time to consider a new perspective.
"Not sure how to convey how important your story is" Mara Huber, PhD.
This course investigates the consequences of regenerative land management with sessions on soils, forests, and water. It evaluates these issues in relation to the first principles of climatology, discovered by Fourier in the 1820s. This perspective generates a new climate story, bolstered by common sense and direct experience. The remainder of the course examines and explains the new story, and what it means, for you and the planet.
The first result of this story is that climate is largely local. Yes, there are global factors that impact climate, but the climate you experience, the ambient environment you inhabit, is the creation of local conditions. The IPCC itself confirms this when it dismisses urban heat islands as a local condition, irrelevant to the climate. That is to say, that the elevated temperatures millions of city inhabitants live in is a local phenomenon.
I begin with a neighbor's front yard, where temperatures varied by 600F, the difference between a frost, and a hot summer day, over a distance of 30 feet. Urban heat islands result from physics that store and trap heat within urban areas, sometimes raising temperatures 200F or more above outlying areas. Yet forests are typically cooler than surrounding areas, and Renaissance "Grottos" creatively utilized water to produce luxuriantly cool gardens, while a desert oasis provides comfortable conditions within the surrounding climate.
This reality empowers those dis-empowered by a belief that climates are global, to become active in improving their own circumstances. You can change the climate in your backyard, your town, or your region. Carefully designed microclimates can create comfortable outdoor seating areas in the middle of winter, in Canada. If the area is small the result will not be large, but the changes will be real none-the-less.
The second result of this new climate story is that changes can be made rapidly. Actions can be taken that will reduce local temperatures tomorrow! Many more options will make a difference within several weeks to a few months. Longer term changes will take a few years to a decade. The possibilities depend only on your imagination and commitment to the work, and to motivate others.
The third result of this climate story is that changes will directly benefit the health of the ecology. This may be largely a case of getting out of the way, while offering small stimulus where needed, then standing back and letting nature do the work. If we ever get to the point where nature becomes so depleted it is unable to repair itself, we would be past the point of redemption.
Participation
I realize that the reading is fairly heavy. But you must engage with the material for learning to occur. The more of it you are able to do, the better you will master this perspective.
By the end of this course students should be able to:
Course Objectives:
Discuss the causes and sources of heat that warms the Earth.
Discuss at least three means of reducing the temperature in a local area.
Explain the changes in the planetary surface over 8,000 years, and why they matter.
Access extensive backup information on these topics.
Readings:
Brown, G, (2018) Dirt to Soil: One Family's Journey into Regenerative Agriculture. White River Junction, VT: Chelsea Green Publishers.
Brown, R, (2010), Design with Microclimate: The Secret of Comfortable Outdoor Space. Washington, Island Press.
Centola, D, (2021) Change: How to Make Big things Happen. Boston, Little, Brown Spark. Post-Class.
Ellison D, Morris C, Locatelli B et al. (2017) Trees, Forests and Water: Cool Insights for a Hot World. Global Environmental Change 43 (2017): 51-61. Will Distribute.
Haines, CA, (2018) Livelong Learning as a Sustainability Strategy. Available at © Springer International Publishing AG 2018 U. M. Azeiteiro et al. (eds.), Lifelong Learning and Education in Healthy and Sustainable Cities, World Sustainability Series, https://doi.org/10.1007/978-3-319-69474-0_24
Haines, CA, (2022) Greenhouse Gases: True, but Not the Whole Truth. Journal of Sustainability Education. Greenhouse Gases: True, but Not the Whole Truth, Link to JSE Climate Change Table of Contents, Haines JSE Climate Change PDF
Jones, C, (2015) https://www.ecofarmingdaily.com/interview-sos-save-soils-dr-christine-jones-explains-life-giving-link-carbon-healthy-topsoil/
Kravcik, M, Pokorny J, Kohutiar J et al. (2008) Water for the Recovery of the Climate: A New Water http://www.waterparadigm.org/download/Water_for_the_Recovery_of_the_Climate_A_New_Water_Paradigm.pdf
Markarieva, A.M. and Gorshkov, V.G. (2007). Biotic Pump of atmospheric moisture as driver of the hydrological cycle on land. Hydrology and Earth System Science, 11, 1013-1033. Will Distribute
Maser, (1994), Ancient Forests, Priceless Treasures. In Pilarski, M, (Ed.) Restoration Forestry: An International Guide to Sustainable Forestry Practices. Durango, Co. Kivaki Press. Will Distribute.
Class
Topics
Assignments
Week #1 – Nov 13th
WelcomeWelcome, Names/roster,Course questions?Course IntroductionLife-Long Learning disc. Biodiversity/ Symbiosis
Wrap-Up: – Haines, (2018), Life-long Learning as a Sustainability Strategy – (distributed pre-class)Prep: – Read Brown G.
Week $2 – Nov 20th
Soil: The Carbon Cycle


Wrap-Up: Read Jones, (2015) Prep: – Read Maser Chapter
Week #3 – Nov 27th
Forests: Carbon & Water


Wrap-Up: – Read Ellison ArticlePrep: – Read Kravcik
Week #4 – Dec 4th
Water: Life and Climate



Wrap-Up: – Read Biotic PumpPrep: – Read Brown R.
Week #5 – Dec 11th
Local Climates: Re-Wilding
Wrap-Up:
Prep: – Read Haines, CA, (2022) Greenhouse Gases: True, but Not the Whole Truth.
Week #6- Dec 18th
A New Climate StoryHeat Planet Discussion
Wrap-Up: —————————————Post Class: – Centola, D,
About the Teacher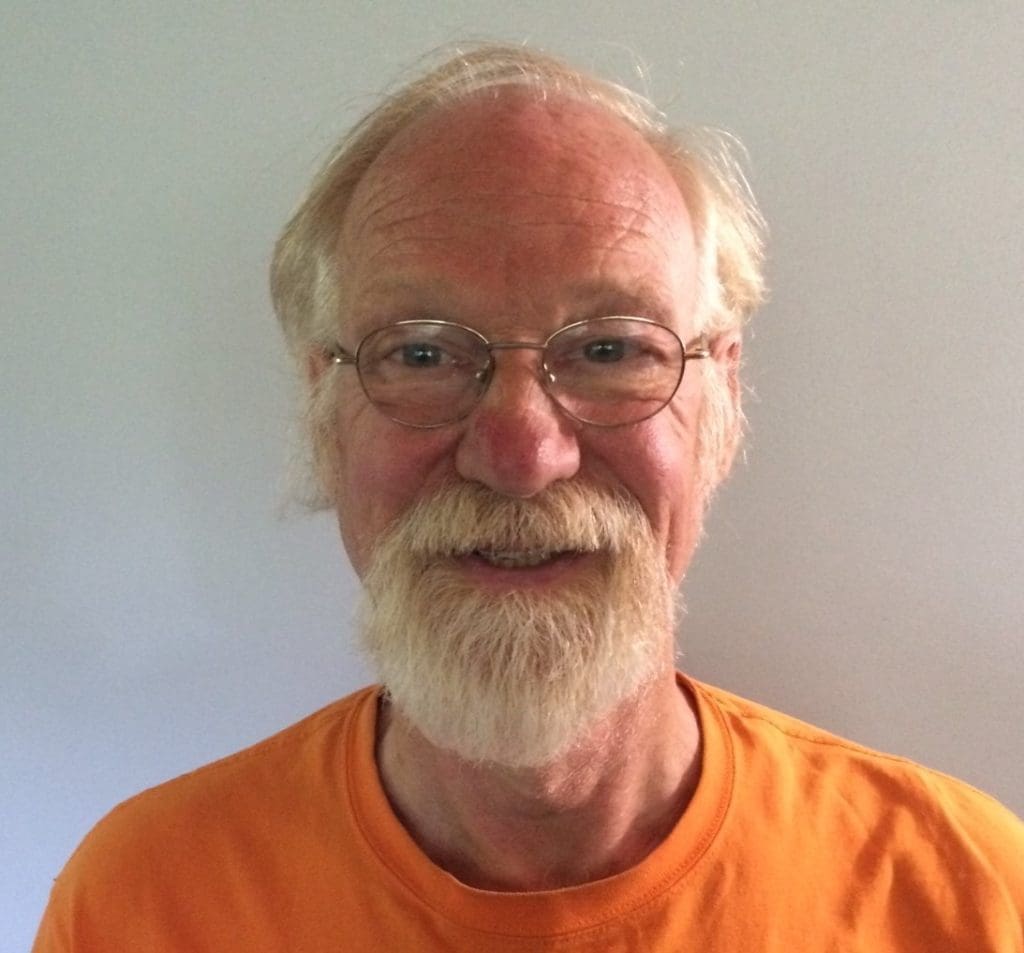 An NCARB certified Architect, I specialized in regenerative design, utilizing both Passive House and Living Building Challenge perspectives. I have taught urban sustainability, environmental management, and architectural technology at universities. I investigated socially and technically regenerative society, with studies in higher education curriculums, urbanism, brain science, and the social and ecological impacts of a growth economy. After several years' immersion in biodiversity and its intersection with the built environment I recognized the Heat Planet thesis and have been writing the book on it.
For questions regarding the course email me at cahaines26@gmail.com.
To join us, register below!