Miyawaki Forests
Everyone needs a forest, because not only are they one of the most efficient means for sequestering carbon, but the most effective system for cooling the planet, especially on the local level.
With the loss of green spaces, more and more people are feeling the effects of heat islands, localized hotspots that can be readily combated by planting and stewarding healthy ecosystems.
Our solution is to foster the planting of mini-forests using the Miywaki Method.
Our Program
Our goal is to lead the way in establishing mini forests in under-resourced communities, starting with the first ever Miyawaki Forest to be planted in New England! We're working with local and Indigenous groups to create tree equity through the sowing of healthy ecosystems. Explore our project pages and linked resources, and find out how you can get involved in our work.
The Miyawaki Method
We are involved in planting, supporting, and educating people on this method of afforestation, and are looking for people like you to help us steward this revolution!
Miyawaki Forests are biodiverse, native, pocket-sized forests that reestablish full, functioning ecosystems in the areas they are planted. This scalable, replicable nature-based climate solution leads to cooling, increased biodiversity, and communal resilience, among other benefits.
The steps of the Miyawaki Method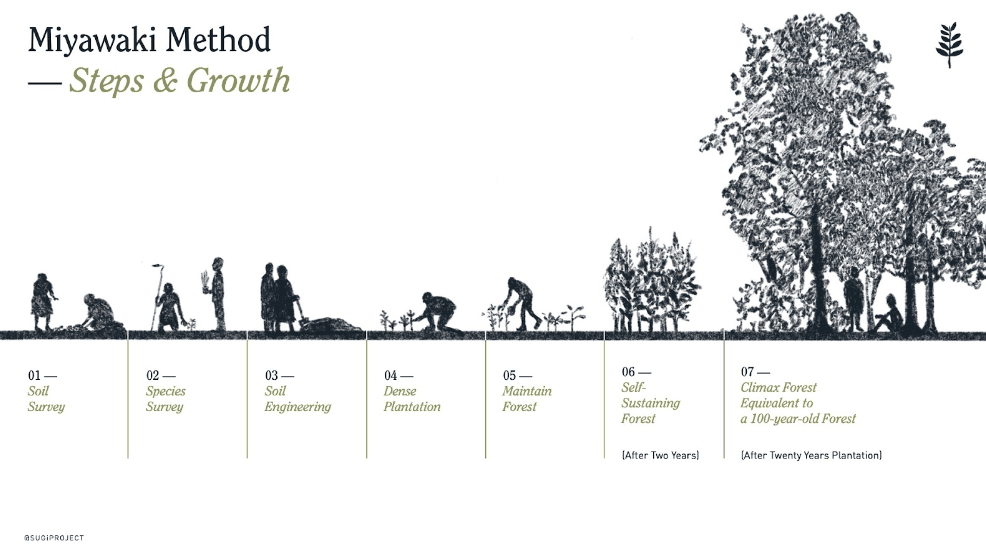 (Image Credit: SUGi)
---
Our Forests

Cambridge, Massachusetts, USA
North Cambridge
---
Our Experts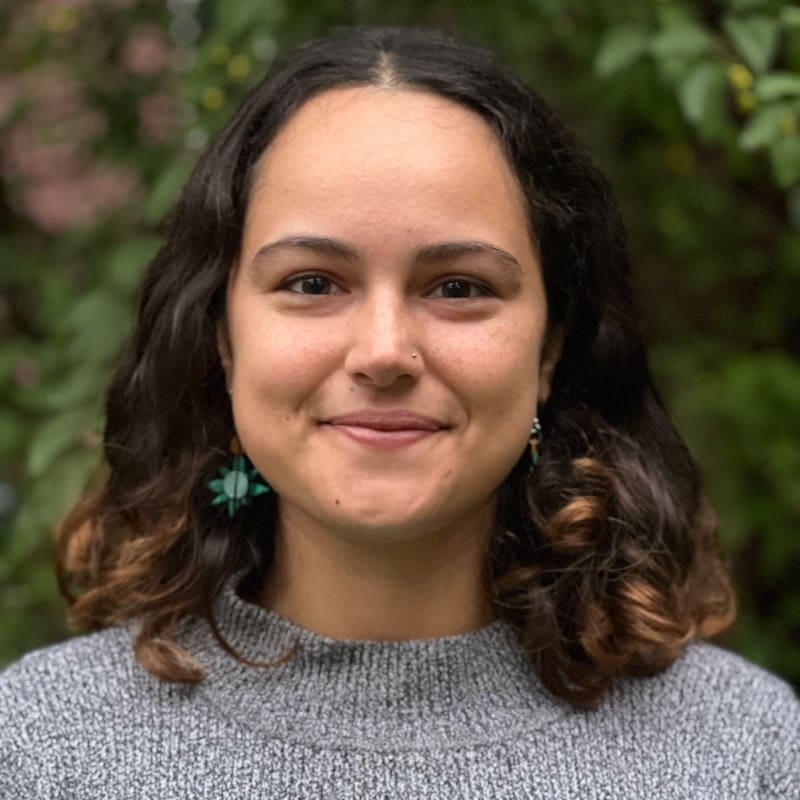 Maya Dutta, Assistant Director Regenerative Projects
Maya Dutta is a dedicated environmental advocate and ecosystem restorer with a focus on the crucial role of biodiversity in shaping our climate and natural cycles. With extensive training from SUGI and collaborative work with experts like Ethan Bryson and Hannah Lewis, Maya brings specialized expertise in coastal New England region species and Miyawaki projects, from community engagement and plant selection to ongoing evaluation. Notably, she played a key role in planting the first Miyawaki forest in the Northeast US. Her work aims to fight global climate change while improving human livelihoods and community equity.
Hannah Lewis was the editor of our "Compendium of Scientific and Practical Findings Supporting Eco-Restoration to Address Global Warming," and an expert on the Miyawaki Method. Hannah has diverse experience in sustainable practices, previously serving as the Midwest regional director for the National Center for Appropriate Technology. She holds an MS in Sustainable Agriculture and Sociology from Iowa State University and a BA in Environmental Studies from Middlebury College. She is the author of "Mini-Forest Revolution," a book motivated by her desire to transform environmental anxieties into positive actions. Through both her writing and forest-planting initiatives, she aims to demonstrate the inextricable link between human well-being and thriving ecosystems.
Testimonials
Within a few years, many of the now 14-foot saplings would be as tall as telephone poles and the forest would be self-sufficient. Healthy woodlands absorb carbon dioxide, clean the air and provide for wildlife. But these tiny forests promise even more."

Cara Buckley, New York Times
They can grow as quickly as ten times the speed of conventional tree plantations, enabling them to support more birds, animals and insects, and to sequester more carbon, while requiring no weeding or watering after the first three years"

Cara Buckley, New York Times
This has by far and away gotten the most positive feedback from the public and residents than we've had for any project, and we do a lot"

Andrew Putnam, superintendent of urban forestry and landscapes for the city of Cambridge, on our Danehy Park Project
Learn More
Hannah Lewis' book on the Miyawaki Method
From the "Mini Forest Revolution" Forward:
Much of what we hear about the climate crisis is the rate at which peril is increasing and the lack of sufficient action on all levels of agency. We are surfeited with news of the problems, probabilities, and impacts. It is almost too much to take in. What is missing that lends balance to the news is possibility. Every problem is a solution in disguise, or it would not be a problem. The Miyawaki Method is crucial because it is a possibility that can be implemented by people everywhere, and as Hannah points out, by communities, classrooms, cities, clubs, families, and yes, even countries if they wake up. We do not have to wait for nations, banks, and corporations to act. — Paul Hawken
In the News
Our Partner Organizations