Nature's Solutions as National Policy
Code Red at Glasgow: What did they miss?
November 20, 2021 10:00 am – 12:00 pm ET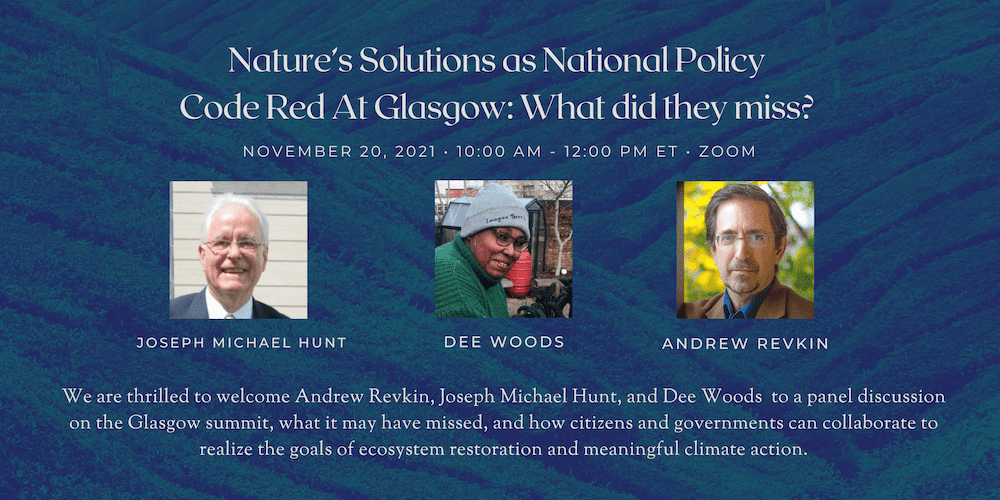 This November, Biodiversity for a Livable Climate continued its series of mini-conferences on how we can leverage nature's solutions to shape policy on climate action and resilience. We turned our attention to the Glasgow COP26 summit, debriefing the action (or inaction) that took place. How much are leaders paying attention to, investing in, and supporting the many community led solutions of fighting climate change by protecting and restoring ecosystems? We gathered a panel to address the urgent question of how to make such grassroots movements toward nature's solutions the focus of climate action and close the gap between policy and practice.
Check out the past installments in this conference series, Nature's Solutions as National Policy from June 2021, and Nature's Solutions as National Policy: How Animals Shape Ecosystems from September 2021.
View the conference recording below, and access the chat and related resources here.
---
Thousands of projects on six continents are endeavoring to cool our overheated planet and restore biodiversity loss by harnessing the power of photosynthesis, carbon sequestration and regeneration of degraded landscapes. Most of these efforts are not by governments or corporations, but by coalitions of researchers, farmers, fishermen, forest-dwellers, and village cooperatives. What would happen if this "Blessed Unrest" working to improve soils and fight climate warming were integrated into government policy on agriculture, fishing, water, and forests?
We are thrilled to welcome Andrew Revkin, Joseph Michael Hunt, and Dee Woods to a panel discussion on the Glasgow summit, what it may have missed, and how citizens and governments can collaborate to realize the goals of ecosystem restoration and meaningful climate action.
---
Andrew Revkin is one of America's most honored and experienced environmental journalists and the founding director of the new Initiative on Communication and Sustainability at Columbia University's Earth Institute. Revkin has written on climate change for more than 30 years, reporting from the North Pole to the White House, the Amazon rain forest to the Vatican – mostly for The New York Times. He has held positions at National Geographic and Discover Magazine and won the top awards in science journalism multiple times, along with a Guggenheim Fellowship. Revkin has written acclaimed books on the history of humanity's relationship with weather, the changing Arctic, global warming and the assault on the Amazon rain forest, as well as three book chapters on science communication.
Joseph Michael Hunt is an American citizen who has worked in the fields of economic development, agriculture, environment, population, health, nutrition and child development in Asia and Africa for nearly thirty years. He has extensive advisory and research experience on the interlinkages of food, agriculture, health and nutrition policies and planning.
Dee Woods is a food and farming activist and campaigner based in London and a founder of the Granville Community Kitchen. She advocates for good food for all and a more just and equitable food and farming system. She works as Food Justice Policy Coordinator for the Land Workers' Alliance. She also works with the Land Workers' Alliance BPOC working group and is a member of their Coordinating Group. Dee has been following the work of the UN Food Systems Summit, and represents the Land Workers' Alliance and the European Coordination Via Campesina at the Civil Society and Indigenous Peoples' Mechanism for Relations with the UN Committee on World Food Security. At COP26 she participated with the Land Workers' Alliance and La Via Campesina delegation both as an accredited delegate and in social movement spaces 'outside'.
The Land Workers' Alliance is a union of farmers, growers, foresters and land-based workers, and a member of La Via Campesina, an international movement bringing together millions of peasants, small and medium size farmers, landless people, rural women and youth, Indigenous people, migrants and agricultural workers from around the world. Together, they work to achieve a global vision of agroecology, food sovereignty and sustainable forestry, defending peasant agriculture for food sovereignty as a way to promote social justice and dignity and strongly opposing corporate driven agriculture that destroys social relations and nature. These organizations are doing wonderful work to empower workers, build coalitions, and advance regenerative agricultural practices that also regenerate communities and relationships, and we are honored to welcome Dee Woods to this conference panel to share her perspective.
---
Enjoy this event recording, and stay tuned for further installments in the series!