Restoring Water Cycles to Reverse Global Warming

– Sponsors & Partners –

Our partners support us and in many instances are doing similar work. We share logos and links, and we ask our partners to announce the conference on their websites, Facebook pages and in newsletters.  Our sponsors work with us as partners do, but they also contribute financially.  We invite broad participation from constituencies around the world; our partnership and sponsorship guidelines are here.  For further information, please contact staff@bio4climate.org.
Sponsors
Lead Sponsors: $1000 or more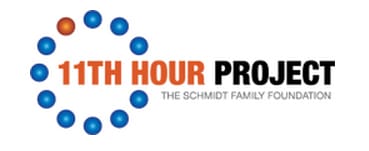 The 11th Hour Project, a program of The Schmidt Family Foundation, promotes a fuller understanding of the impact of human activity within the web of interdependent living systems. We connect organizations with good information on how to develop a more responsible relationship with the world's water, energy, and food resources.
The Organic Consumers Association is an online and grassroots non-profit addressing crucial issues of food safety, industrial agriculture, genetic engineering, children's health, corporate accountability, Fair Trade, environmental sustainability and other key topics. OCA is the only organization in the US focused exclusively on promoting the views and interests of the nation's estimated 50 million organic and socially responsible consumers.
The Tufts Institute of the Environment (TIE) is an interdisciplinary university-wide institute that initiates, facilitates, and promotes environmental education, research, and outreach toward a sustainable future.  TIE is our conference site co-sponsor.
Co-Sponsors: $500-$999 
The Bionutrient Food Association is a national association of voting members who agree to uphold the mission of the organization and advocate for vital soils, nourishing food and healthy people.
Cuisine en Locale uses all local ingredients in Massachusetts and that's no simple task.  We are often asked why we bother.  The simple answer strikes to the heart of the company's mission: to support the growth of farms and farmers, and increase the value of food in the area where we live, and eat.  It's a selfish mission, really:  we want to eat real food, and we want to offer our family and friends that same opportunity.  We are grateful every day for the farmers we buy our food from, and they are grateful for us.  It is a simple, solid relationship of which we are proud.
In 1986, Equal Exchange was founded to challenge the existing trade model, which favors large plantations, agri-business, and multi-national corporations; support small farmers; and connect consumers and producers through information, education, and the exchange of products in the marketplace. With our founding, we joined a growing movement of small farmers, alternative traders (ATOs), religious organizations, and non-profits throughout the world with like-minded principles and objectives. Underlying our work is the belief that only through organization, can small farmers survive and thrive. The cooperative model has been essential for building this model of change.
Irving House is a B&B where energy efficiency and environmental responsibility  have always been core values. In 2005 Irving House joined the EPA's Energy Star program and was awarded their Energy Star for our performance in 2006. As technologies for best environmental practices evolve, we continue to find new ways to lighten our footprint while maintaining a high level of services to our guests.
Quinton Zondervan is an environmental activist, a successful biotech entrepreneur and an award-winning software engineer. In addition to his work as Executive Director at the Climate Action Business Association, he serves as  president of Green Cambridge, a non-profit organization that promotes energy conservation, recycling and other sustainability initiatives in Cambridge, Massachusetts.  He holds a master's degree in electrical engineering and computer science from MIT and two bachelor's degrees in the fields of mathematics and computer science from Eckerd College in St. Petersburg, Florida.
Introductory Sponsors: $100-$249 
The Climate Action Business Association's mission is to help solve the climate crisis by organizing local small business leaders to be more effective advocates for climate change mitigation and adaptation within our communities, at the business, local, state, regional, national and international levels.
Partners
International Year of Soils.  The Food and Agriculture Organization of the United Nations is implementing the IYS 2015.  Its specific objectives of the IYS 2015 are to raise full awareness among civil society and decision makers about the profound importance of soil for human life; educate the public about the crucial role soil plays in food security, climate change adaptation and mitigation, essential ecosystem services, poverty alleviation and sustainable development; support effective policies and actions for the sustainable management and protection of soil resources; promote investment in sustainable soil management activities to develop and maintain healthy soils for different land users and population groups; strengthen initiatives in connection with the SDG process (Sustainable Development Goals) and Post-2015 agenda; advocate for rapid capacity enhancement for soil information collection and monitoring at all levels (global, regional and national).
Archangel Ancient Tree Archive is a 501(c)3 non-profit organization that locates and propagates the world's largest and most iconic trees. AATA creates living libraries of old-growth tree genetics by cloning these old growth trees through traditional and advanced horticultural propagation for the purpose of future research and functional reforestation. We promote the use of the right trees for the right application for a balanced, sustainable environment. We want, and need to replace the natural filter systems of our water and air to fight global warming caused climate change, and protect our freshwater ecosystem to restore the health of our planet. https://www.ancienttreearchive.org/
THE CAMBRIDGE GREEN SCHOOLS INITIATIVE
The Cambridge Green Schools Initiative (CGSI) was launched in September 2011, and is run out of the school department's Office for Sustainability. The program involves environmental initiatives across the district in the categories of Products, Food, Energy, Waste, and Greenspace.
Cambridge Naturals was founded in 1974 to provide the best choices in nutritional supplements, clean body care products and organic foods. It is committed to sourcing products locally, organically, and ethically via fair trade and direct trade channels, and to donating a portion of its profits to social and environmental organizations that impact the local community.
CAMBRIDGE PUBLIC SCHOOLS' MAYNARD ECOLOGY CENTER
Located at Neville Place at Fresh Pond Reservation, the Thomas M. Maynard Ecology Center is a science education resource center for Cambridge Public Schools. Fresh Pond Reservation and Black's Nook are used for outdoor field investigations and teaching opportunities. Students of all ages visit the Reservation as an integral part of the Cambridge Public Schools learning curriculum.
The Cambridge Science Festival, the first of its kind in the United States, is a celebration showcasing the leading edge in science, technology, engineering and math. A multifaceted, multicultural event every spring, the Cambridge Science Festival makes science accessible, interactive and fun!
Carbon Drawdown Solutions offers the missing link to climate change, converting the liability of waste to the assets of electricity and biochar, soil fertility and carbon drawdown.
The Carbon Underground  was created to be the umbrella organization responsible for organizing, communicating and educating the world about the powerful climate change-reversing ability of healthy soil, and for helping to create the transformation of enough farms and grasslands to restore a healthy climate.  The Carbon Underground's  online platform under development will provide a dynamic data-sharing home for farmers, governments, NGOs, and scientists to both improve results and proliferate transformation.
ConcordCAN! is a local chapter of MCAN, the Massachusetts Climate Action Network, and is an independent grassroots organization in Concord, Massachusetts. The mission of ConcordCAN! is to promote sustainability by bringing in speakers, screening documentary films, and writing monthly newspaper columns to educate local residents; to advocate for environmentally positive policies and behaviors; and to work in cooperation with other local organizations on important environmental issues.
Earthos Institute is about changing the way we construct our environment, from our buildings to our food production, to protect the earth and its systems. It is dedicated to accelerating the translation of knowledge of sustainability into practice in the built environment. Earthos offers a unique combination of expertise in architecture/urban planning and nonprofit collaborative enterprise, establishing effective cross-disciplinary teams that can develop and implement design practice models that promote true sustainability.
The Global Coral Reef Alliance is a non-profit organization dedicated to growing, protecting and managing the most threatened of all marine ecosystems—coral reefs. Founded in 1990, GCRA is a coalition of volunteer scientists, divers, environmentalists and other individuals and organizations, committed to coral reef preservation and restoration.
The Harvard Extension Environmental Club is an officially recognized student organization at Harvard University. The mission of HEEC is to raise awareness among the Harvard and local communities through networking events, guest speaker series, stewardship and volunteer opportunities, and field trips to explore green spaces, sustainable businesses and clean energy facilities in greater Boston.
The Harvard University Center for the Environment (HUCE) encourages research and education about the environment and its many interactions with human society. Through a variety of grants and fellowships, the Center supports research related to the environment at every level. By sponsoring symposia, public lectures, and informal student convocations, the Center connects people with an interest in the environment. The Center is also home to the undergraduate Environmental Science and Public Policy concentration, and the Ph.D. level Graduate Consortium on Energy and Environment.
It's Time Network is building a framework to support an inclusive and creative community of visionary leaders and change agents who are coalescing a long-term, broad-based civic engagement movement to evolve democracy, to heal and regenerate the Earth's biosphere and to build local, bioregional, national and global economies that care for the Earth and for all people, that share prosperity and that conserve resources.
The Massachusetts Climate Action Network (MCAN) is a statewide organization that coordinates the work of locally organized groups across Massachusetts fighting the climate crisis. We have a large and vigorous community of 46 chapters located in a fifth of the state's communities, hundreds of members and supporters who communicate, network, and share information related to climate action.
Mothers Out Front brings mothers together to make climate change an issue that our leaders can no longer ignore by building a powerful grassroots movement to ensure that our children have a livable future in the age of climate change. The goal of Mothers Out Front is to pressure political, business, and economic institutions to align their priorities and actions with the reality of climate change and its impacts.
Ten Thousand Villages is an exceptional source for unique handmade gifts, jewelry, home decor, art and sculpture, textiles, serveware and personal accessories representing the diverse cultures of artisans in Asia, Africa, Latin America and the Middle East. One of the world's largest fair trade organizations and a founding member of the World Fair Trade Organization (WFTO), the company strives to improve the livelihood of tens of thousands of disadvantaged artisans in 38 countries. The Central Square Ten Thousand Villages store will provide a discount to shoppers who present their Restoring Water Cycles to Reverse Global Warming conference program.
Phila Hoopes (Your Words' Worth) is a freelance writer and marketing consultant providing sustainable and restorative businesses with services including web content, bios, information products, ghost-blogging, social media content, and event promotion. With an M.A. in Applied Healing Arts from Maryland University of Integrative Health, a permaculture design certification from Earth Activist Training, and a career spanning journalism, air pollution control documentation, and medical writing as well as marketing, she's covered topics ranging from soil ecology to integrative farming, from indigenous rights to eco-spiritual theology, and from chakras to work/life balance. Phila is currently transforming her suburban property into a permaculture demonstration site in cooperation with Baltimore's Gift Economy Network and Sustainability Council. Learn more about Your Words' Worth's green initiatives at the Maryland Green Registry. 
The Zephyr Education Foundation is a non-profit Ocean Science and Technology education program based in Woods Hole, MA that hosts college, high school and middle school field trips including a hands-on scientific cruise in Vineyard Sound replicating the cruises performed by the laboratories at Woods Hole. Students participate in deploying and recovering marine biological and oceanographic instrumentation, dredging marine specimens, deploying an acoustically releasable mooring, towing plankton nets and other shipboard activities. ZEF also tours some the the laboratories and docks in Woods Hole and discusses the research projects currently under investigation there.