BIODIVERSITY FOR A LIVABLE CLIMATE presents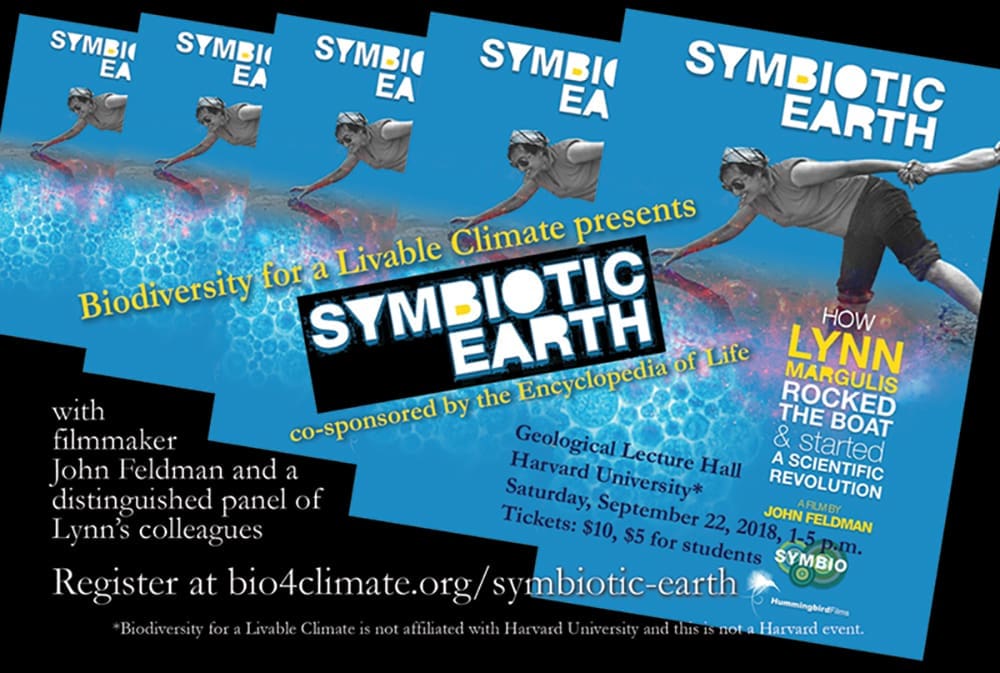 A scientific detective story of scope and beauty
that will leave you breathless!
With a panel of Lynn's former colleagues, Betsey Dexter-Dyer,
Douglas Zook, Jim McAllister, Emily Case, Tom Goreau, and
Filmmaker John Feldman
*********************************************************
Co-sponsored by the Encyclopedia of Life and the
Harvard Graduate Women in Science & Engineering and
the Harvard Extension School Environmental Club (HESEC)
Film Showing and Panel Discussion
Geological Lecture Hall, Harvard University*
24 Oxford Street, Cambridge, MA
September 22, 2018, 1 p.m. to 5 p.m.

Tickets:  Regular, $10; Students, $5
A fundraiser for Biodiversity for a Livable Climate

Symbiotic Earth: How Lynn Margulis rocked the boat and started a scientific revolution is a new documentary created by award-winning filmmaker John Feldman. It weaves a complex story about how the radical ideas of scientist Lynn Margulis are fostering a new approach to understanding life which encourages a symbiotic and cooperative lifestyle. It strikes at the very core of the mechanistic worldview that success comes only through competitive struggle.
Visit http://hummingbirdfilms.com/symbioticearth/  If you can't make it to the show, you can purchase the video here. And the free study guide is here.
Watch the Trailer:
"Biologist Lynn Margulis spent her life making discoveries by finding things contrary to the hypotheses of Neo-Darwinism, the set of views that evolution happens at the genetic rather than the organismal level, a notion made popular by Richard Dawkin's book The Selfish Gene. In challenging Neo-Darwinism, Margulis created a paradigm shift that's reverberating through the foundations of biology, and beyond…."
– Margaret Wertheim
*Biodiversity for a Livable Climate is not affiliated with Harvard University and this is not a Harvard event.