As many people know through firsthand experience, we planted the Northeast's first Miyawaki Forest last weekend. After several months of planning, discussion, and organization, we gathered in Danehy Park in North Cambridge to create the forest. This was the part I participated in, but like so much of our work at Biodiversity for a Livable Climate, the roots are deeper, and the lifespan, relationships, and systems involved are larger and more complex than the simple joy and hard work of days and months.
Where does this story start exactly? In the soil, where compost and biochar prepared for new life to take root and thrive? Deep underneath that, where landfill sits dormant in the ground, unaware of the changes that will take place when life comes to the neighborhood? Decades ago, when a vision for a park to replace the dump was born? On Saturday, when people came from across the city and country to work together in common vision? Or perhaps hundreds of years ago, when this Wampanoag land grew berries and weaving wood, nourishing people who gave back in turn, and listened to the lessons that the forests held?
The story of this forest is all of that and more – it is in the people who came to plant with friends and family, who taught others as they worked and listened and learned in turn. It is in our healing intentions and resolute hearts. Our friends from the Yakama and Navajo nations helped us honor the tribal history of this land and the pain it holds, but also to recognize the possibility of the healing that comes with honest acknowledgment of the past, hope for a better future, and the compassion and connection that can bridge them.
Our work is at that unity of big and small, long term vision and the short term actions that bring it about. It is about cooling the Earth here and now, and stewarding the healthy ecosystems that can rebalance our water and carbon cycles and return us to livable and predictable conditions over time. What's so special about restoration as a solution to climate change is that feeling in your soul and spirit – that your actions are not at odds with the living world, but instead are born out of alignment with nature that you take part in. It is that feeling you get when you plant a living tree in the soil, knowing you are channeling it to its permanent home, knowing that there it will root and grow and go on to outlive you.
It is that feeling of being on a team, turning to your neighbor and finding out what brought them out, when they first began to garden, or to learn the names of birds or berries, or what family member they wish were present to take part too. People spoke of what they wanted to see in their communities. They made plans for more planting and more action. They talked about the maple cookies you could make from sugar maples, and speculated on the flowers that would sprout from the rose bushes.
We planted a multitude of species, creating what will develop into four vertical layers of forest – shrub, tree, mid-canopy and canopy levels. From the first central plantings of the sisters chokecherry and elderberry, we added maple, dogwood, sumac, oak, witch hazel, rose. They will flower and bloom at different times, change color and drop leaves, huddle underground under a blanket of winter snow. They create a new family in place, our children today and elders tomorrow.
Collaboration and deep connection is what makes Miyawaki Forests so strong, and it is also the key to the way we as people can go onto both survive and even thrive in a world that is still being degraded. The forest is a testament to the vision and practice of restoration, making tangible so much of what I have learned in lectures, classes, conferences and my work with Bio4Climate, and giving those memories a home in my heart.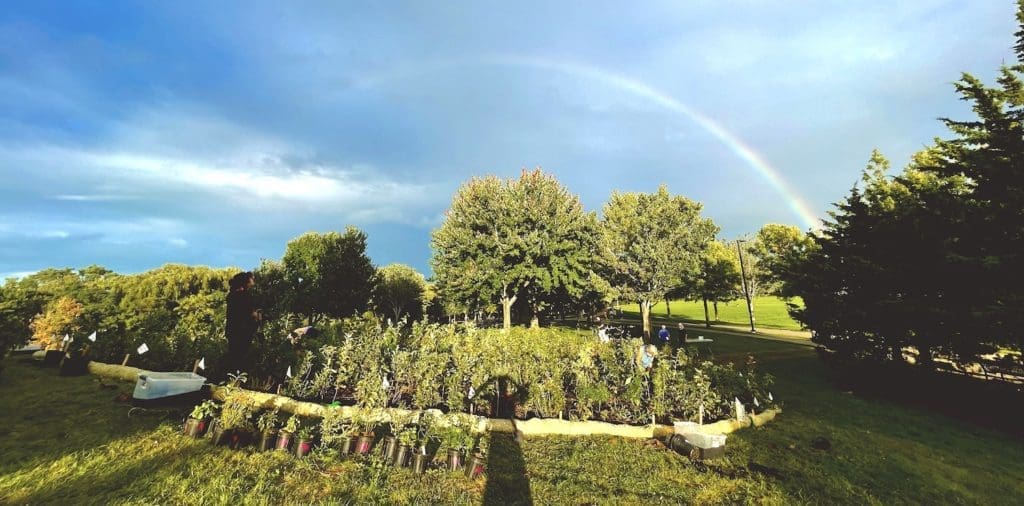 In the midst of it all, with the soil all over me, clumsy feet stepping around newly rooting trees, surrounded by warm and open faces on a bright and beautiful day, it struck me – this is what we work for. This is what success looks like. It is that win of multiples – home for biodiversity, filtered air, remediated soil, sequestered carbon, a sponge for water, plants that teach and provide, and something greater than the sum of any parts – connection and relationship, which nurtures your soul with each bit of energy you put into the job.
I say it over and over – I don't know what the future looks like. But if it looks like this, more forests, greener cities, more teaching, learning, and appreciating life in its complexity and interconnectedness, then I can continue to have hope for myself and for this world I so love. I don't need to reach a point where the work of making a more whole, healthy planet stops. To participate in its restoration and know that there are millions of others doing the same, and that as I go, I can make more of this and spread these seeds of such joyous change – that is enough. I am so grateful to everyone who participated, in digging, in planting, in planning and spreading the word, in supporting Bio4Climate and making this all possible. It's truly an honor to sow and grow with you.